Pokagon PD makes biggest fentanyl bust safely with ResQ drug testing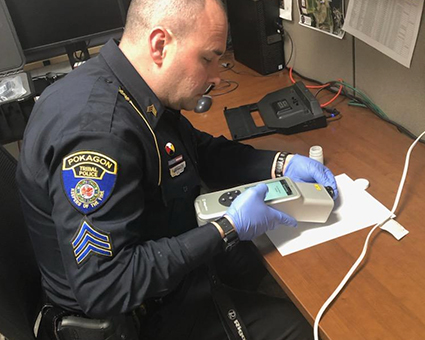 April 6, 2022 - Opioids surged in the Pokagon Band of Potawatomi Tribal community.
The effects in this small piece of the Midwest have been felt much the same way throughout the U.S.
Fentanyl rapidly went from a heroin additive to a sought-after product all its own. Its effect was drastic.
Overdose rates around the casinos tripled in recent years.
Officers at the tribal casinos used Narcan to save several lives in the first month of 2022.
Police are concerned for their communities, as well as their personal safety. Accidentally ingesting fentanyl can be a deadly mistake. And yet, officers must open packages to perform chemical reagent tests. Then the substance is still sent to a lab for conclusive results.
All this created a stressful work environment for Pokagon Tribal Police. Simple traffic stops turned into hazardous exposure situations a few times. And law enforcement agencies around the nation felt it, too, especially for their canine coworkers.
"Everybody is very aware of the danger," Lt. Scott Hanley said. "There's been some very high-profile cases where law enforcement has overdosed, and canine officers have died. Everybody's been trained up on it and are very aware of what's going on."
Fortunately, Hanley helped put his officers at ease with contact-free ResQ drug testing.
Rigaku's handheld Raman analyzers scan through packaging for exposure-free drug testing.
"[Contactless drug testing] has been huge," Hanley said. "Cops love to talk about change but hate to actually change. But when we got the Rigaku Raman device, it's pretty amazing the number of people that were encouraged to use it and used it all the time. The Raman device just makes it so much easier."
Pokagon goes to the ResQ
It only took one big bust for everyone in the department to get on board with the new tech.
A couple years ago, nightshift officers pulled over a suspicious vehicle. They recognized its driver was under the influence. But they couldn't identify the powder they confiscated.
Officers used to reach for a chemical reagent test in these situations. That required them to open the bag without any sign of how much danger the substance poses. In this case, that could've been a mistake.
This outdated system creates obvious safety risks. With modern technology, they're entirely avoidable.
Fortunately, the night officers utilized their new handheld Raman analyzer to scan the powder without unsealing the bag. A big warning sign soon flashed on the screen. They had results. The identified substances: caffeine and fentanyl.
"We ended up weighing out about 89 grams of fentanyl," Hanley said. "Luckily, nobody opened that bag, because who knows what effect that would've had, since it was a rather large seizure. At the time, it was the largest that tribal police ever had, and I think that was just an eye-opener for everybody."
Simple safety, easy training
There's no room for surprises in anti-narcotics.
The Pokagon Tribal Police Dept. scans, identifies and marks samples before they're sent for analysis, so lab staff is prepared for hazardous substances. And the lab has confirmed all their identifications thus far. That's 100% accuracy — something you can't expect from reagent tests.
All 50 officers in the department are trained on the unit, and every recruit learns how to use it within two weeks. It's so simple that the most difficult part of training was reminding the more seasoned officers to use it. But if there are any problems, technical support is readily available.
You can't put a price on safety
Every police agency in the nation would be better off with chemical analysis technology like handheld spectrometers.
Many police agencies don't have the budget for such expensive equipment. But for Hanley, it's necessary. He believes today's police force needs advanced drug testing as much as body armor. Yet many agencies still rely on cheap and potentially unsafe reagent tests.
Key qualities and features
Hanley said it only takes one demo to understand the ResQ's crime-fighting potential.
An entire test can be performed in under a few minutes, including unloading and prep time. The onboard library includes known drugs, cutting agents, and other hazardous chemicals. It also offers features like durable construction, built-in camera and court-admissible data.
Raman spectral data provides a chemical fingerprint that is legally defensible in court. This class A analytical technique for presumptive field testing is recognized by the U.S. Scientific Working Group for the Analysis of Seized Drugs (SWGDRUG).
Hanley's big challenge is funding more units. Their device was obtained through a Rigaku promotional program. But his jurisdiction is large, covering parts of Michigan and Indiana. He'd like to have a unit in all three of their offices, especially near the casinos.
Due to COVID and budgeting, Pokagon Tribal Police lacked the funds for additional units in 2021. Hanley will find a way to get one somehow, whether it's through a grant or other means.
It's a major investment, but it's what his officers need. You can't put a price on an officer's safety.
Hanley knows not every agency can budget for handheld spectrometers, "but when it comes to saving an officer's life or preventing an officer from overdosing, it's a huge benefit," he said. "It's just a matter of trying to find funding for it, and hopefully with some of the cops' grants and things that are coming out a lot of agencies will take advantage of this."
Free demos: Check out the ResQ for yourself
Learn more about Rigaku's handheld Raman analyzer and provide your officers with technological backup to combat this latest and most dangerous stage of the drug trade.
Fentanyl isn't going away. Officers need every possible advantage to take these dangerous drugs off the street. Reach for a handheld Raman analyzer for certainty and security.
Demo units are available so don't miss your chance to try this advanced technology for free.
It just may save a life in your department.